All hikers welcome
If your hiking gear has been laid to rest for the year in your garage or under your bed, it's time to dust it off and give it some love! The trails of the Adirondack Hub never rest, and they've been missing you this snowy season. See your favorite landscapes and summits transform under winter powder, traverse through new challenges, and embrace the peace and quiet of calm snowy trails. Although the hustle and bustle of summer has ended, you'll find just how exciting winter hiking can be. The trails are calling this winter, so grab your snowshoes and cross-country skis and let's go!
Treat this blog as a guide to some of the Adirondack Hub's most notable trail systems, and choose between easy, medium, or hard trails. Note that just because your favorite trail is easy in summer, doesn't mean it will be easy in winter!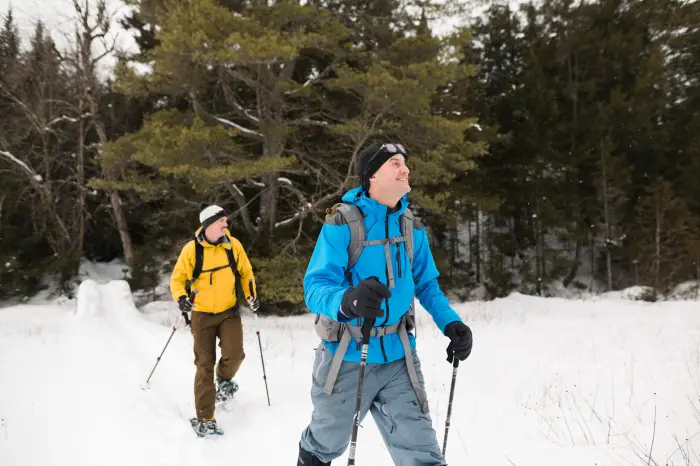 Easy - AIC
For a beginner's circuit, or for those who like to take things easy, we thought the AIC would be the perfect fit. The AIC (Adirondack Interpretive Center) offers the tranquility of the outdoors with seamless trails that blend gently into the terrain of the property. Located in the town of Newcomb, the AIC is part of SUNY ESF's Newcomb campus, serving visitors with an education on Adirondack wildlife and its ecosystems. For an easier hike, the AIC is perfect, offering 3.6 miles of rolling trails that aren't too tough on your leg muscles, and stellar views of Rich Lake and Goodnow Mountain. The property also includes a home base that houses bathrooms, gear, or simply just a place to warm your mitts. Snowshoes are also available for use inside the main building. Note that the AIC is snowshoe only, so no skis!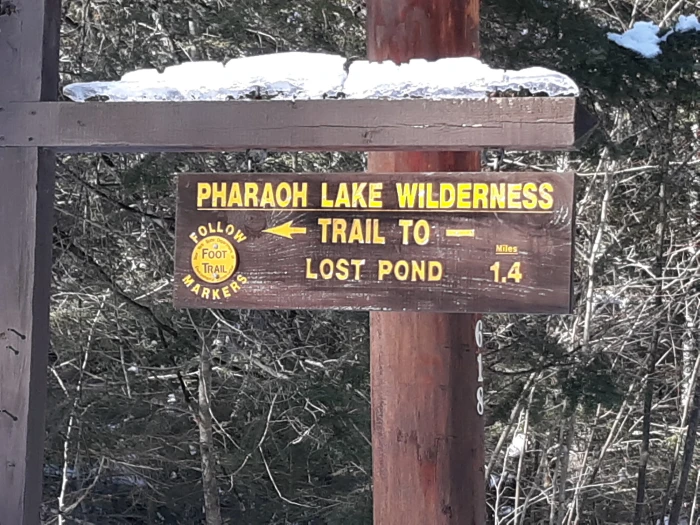 Medium - Pharaoh Lake Wilderness
Cranking up the difficulty, Pharaoh Lake Wilderness offers shorter beginner trails, as well as more difficult terrain for intermediate hikers. Bordering the town of Schroon Lake, Pharaoh Lake Wilderness includes an oasis of lakes and ponds interspersed with its own mountain, Pharaoh Mountain. There are nearly 70 miles of foot trails, each with their own unique views and terrain. Choose from following the shores of the wilderness's lakes, or try Pharaoh Mountain Trail to catch the incredible winter views from the summit. Although Pharaoh Mountain isn't the tallest peak in the Adirondacks, its location offers phenomenal views of the surrounding mountain range. Most trails do not exceed 6 miles round trip, all except for Sucker Brook Trail, clocking in at 7 miles. Cross-country skiing and snowshoeing are permitted on all hiking trails. Remember to reward your hard work with a pint and a hot meal before the journey back to basecamp.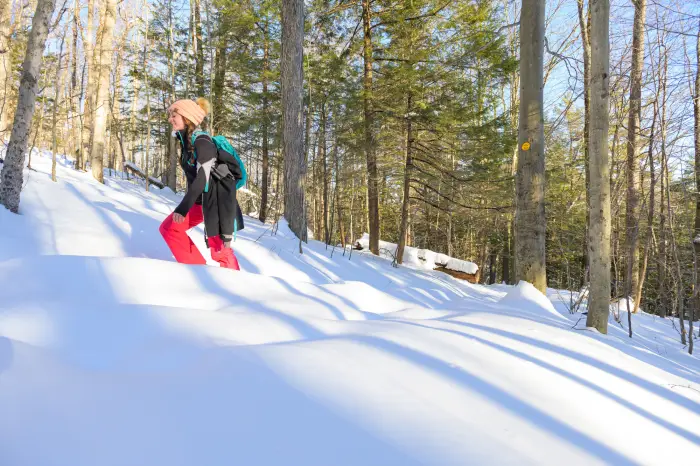 Hard - The High Peaks 
We won't sugar coat it, the High Peaks of the Adirondacks are a challenging feat all on their own. Add snow and volatile weather, and you have your very own Indiana Jones adventure brewing. Luckily, these giant beasts can be scaled with proper gear, prep, and patience. Beginners may want to try a few of the previously mentioned trails first before attempting a High Peak. Increasing your stamina and athleticism with easier trails is advised. A High Peak is typically defined by an elevation of more than 4,000 feet, and round trip hikes can vary from 5 to 18 miles. Because of this, choosing which mountain you'd like to hike is step one. Researching your mountain before you go is essential, you can read up on other hiker's experiences, and any obstacles that you may need to pack for. You'll also be able to estimate how long the trail will take you, plan on arriving early and leaving before you lose daylight. Because of varying conditions, be prepared to stay overnight if you have to. While winter in the Adirondacks is characterized by frigid temperatures, remember that the air and weather can be completely different at the top of the mountain. While it may look sunny and perfect at the base, you may be climbing right into a snowstorm at the top of the mountain! So proper layering is a must. Start with a base layer of sweat wicking long sleeve shirt and pants, an insulating layer made of wool or polyester, a hooded jacket, and an outer shell. Wool socks should also be worn in your boots. 
Here is a list of other items that should be in your pack: 
A map and compass

Crampons and/or microspikes

Headlamp 

Batteries for your headlamp

Matches 

Sunscreen (you can still sunburn in winter)

First aid kit

Food- and extra food

Water- a lot of water

Extra clothing 
Lastly, and most importantly, tell someone before you go, including the mountain you're climbing, the time you plan to leave, and the time you plan to get back.
After you're done with just one, you'll appreciate the few that own a 46er patch.

Gear up, stay warm, have fun
Winter is an exciting time for outdoor lovers of the Adirondacks. Whether you're a snowshoe champ or cross-country skiing aficionado, there's a trail that's ready to match your skill set and challenge your athleticism. If you're a slow-and-steady kind of person, the trails of the AIC and shorter trails at Pharaoh Lake Wilderness are here to offer tranquil hikes without the heart racing thrills of some of our routes. No matter the path you take, proper gear and research is important. At any level of expertise, pick your trail based on your comfort zone, knowing yourself and your limits up here is necessary! Be aware of weather conditions and prepare for unforeseen obstacles. And if the weather isn't that great, consider rescheduling. The trails will be right where you left them.