Sparkling wavelets. Loons swimming in remote lakes. Burbling rivers that take winding journeys through forests and small towns. Maybe it's because winters in the Adirondacks feel extra long, but when summer arrives, we can't contain ourselves. The very idea of getting outside — in the warmth of the sun and on the water — is downright amazing. The Adirondack Hub in upstate New York's Adirondack Mountains is a wilderness playground, and though we love the hikes and the camping is pretty amazing, too, it's the area waterways that many of us dream about all winter long. So whether you're looking to paddle, swim, or motor, grab your bathing suit, sunblock, and favorite shades for some sweet, splashy fun.
A sailor's life is a merry life
At nine miles long, Schroon Lake is the largest lake in the Adirondack Hub, and it has long had a great reputation for fun on the water. The beach is fun and the paddling is too, but to really explore the lake, our favorite activity — and one you should try at least once — is renting a motorboat at the Schroon Lake Marina.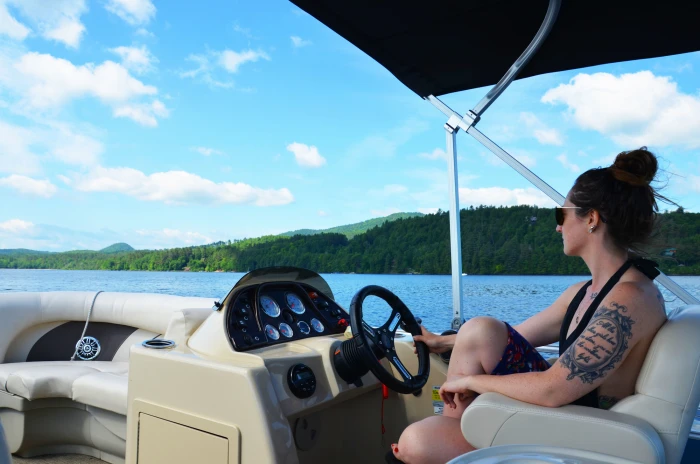 The marina has a variety of rental boats, so you're sure to find something that will fit your budget and your interests. Maybe you want to cruise around with the family all day, go for a swim, and enjoy a picnic on the boat. A pontoon boat would be a great choice! If you're after fishing (Schroon Lake is home to lake trout, landlocked salmon, and bass), the marina's range of fishing boats will have you casting your line in no time.
Because the lake is so large, you'll have plenty of room to ride and peek into coves, stop for a swim, and explore the views of the surrounding mountains. It's a relaxing, amazingly fun way to spend a sunny, summer day. Just be warned: boating in the Adirondacks is majorly addictive!
Hit the sand
Sandy beaches aren't just a tropical thing. In fact, Adirondack beaches have incredible scenery all around them, with the bonus of refreshing freshwater. No French fry stealing seagulls here, just cool Adirondack fun! You'll find beaches in North Hudson, Newcomb, Schroon Lake, and Minerva. Each one offers something fun and unique for the whole family.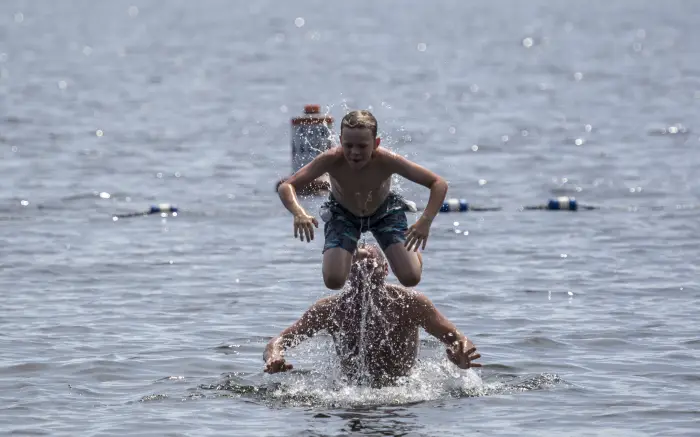 North Hudson's beach is on a shallow part of the Schroon River. This makes it great for families with small children! Newcomb's beach is centrally located on Lake Harris, close to camping, lodging, hiking, and dining. The beach even has a snack shack!
Donnelly Beach in Minerva is a wonderful spot for those looking for a scenic, small town experience. The beach is surrounded by pine forest and is adjacent to a family-friendly campground. It's also a popular spot for community events, including live music! Over in Schroon Lake, the town beach offers great views, a roomy beach on a big lake, and is close to downtown's restaurants and all-important ice cream! 
Wherever you land for your sandy, splashy fun, we know you and your family will have a blast! Build a sand castle or, since it's the Adirondacks, build a sand Great Camp!
Leave it to the pros
Have you ever seen a photo or a painting of a solitary canoeist or kayaker on a sparkling river with expanses of pine trees all around and thought, "that looks so nice, why can't I do that?" Well, dear reader, the time is now. You can do that. Best of all, you can leave the hardest part of the work (aside from the actual paddling) to someone else! Cloud-splitter Outfitters in Newcomb is a destination unto itself! Shop for gear, rent a canoe, and get sage wilderness advice from experts who basically live outdoors. These experts are Adirondack guides, skilled in leading rugged adventures in the awesome wilderness that is the Adirondacks.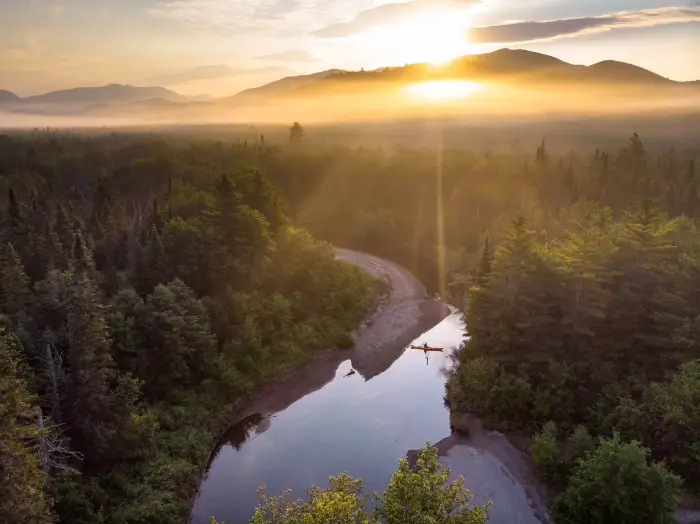 Take an afternoon of scenic paddling on a river or remote lake, or make it a full day of blissful fun. Want to add some fishing to your paddling? I guarantee the pros at Cloud-splitter will take you somewhere special, helping you create the wilderness outing of your dreams!
Ready to start cooling off in the summer heat with the gorgeous waters of the Adirondack Hub? Start planning by exploring how to get here, where to stay, and of course, where to eat!