If you like craft beer, you need to visit Paradox Brewery in Schroon Lake. And depending on when you visit, you might even get to sip your pint while enjoying a view that includes some of the High Peaks. 
Paul and Joan Mrocka opened Paradox six years ago. Hailing from New Jersey, Paul started brewing when he got out of the service in 1984. The couple transitioned from being visitors to the Adirondacks when they bought a house on Paradox Lake, and as many Adirondackers can attest, life here isn't as leisurely as it might seem.
"I don't vacation anymore, I work," Paul said with a laugh. "I use my boat maybe twice a year, and I only used my season pass for skiing twice last winter."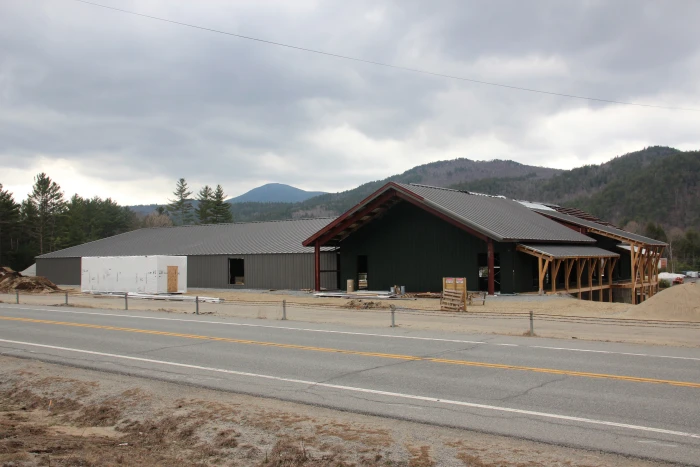 That hard work is paying off, though. The Mrockas are building a shiny new brewery in North Hudson, just a few miles north of Schroon Lake on Route 9, to replace the current brewery, which is just south of Schroon Lake on Route 9. The brewery will be closer to I-87 than their current location, and it will be close to the state's new Frontier Town Campground, Equestrian and Day Use Area. 
But besides being in a convenient spot, the new brewery will allow Paradox to quadruple its output and move everything on site. Right now they're at capacity at their present location with about 2,000 barrels (there's about 30 gallons of beer per barrel) a year, and another 1,800 to 2,000 barrels a year are produced in Stratford, Connecticut. 
Shiny and new
The large, hangar-like building on Route 9N will be packed full of modern, highly efficient equipment. Outside, a large wraparound deck provides views of the surrounding mountains, and there might be food trucks in the brewery's future. All in all, the vast space is bigger than what Paradox currently needs because Paul wants to allow room for the business to grow. 
More space also means more brewing tanks, so the brewers can try smaller batches of things that will only be found on site. There could be a maple porter or a blueberry wheat in Paradox's future! 
A round of beers
Back at the current location, tasting room manager Andre Turcotte outlined some of the mainstays Paradox offers. The Paradox Pilsner is one of the lightest beers they do — it's smooth, crisp and refreshing.
The Beaver Bite IPA is the top selling beer, while its sibling Beaver Overbite is a juicy double IPA, a pineapple meets grapefruit kind of thing. Southern Hemisphere is a highly coveted beer — all of the ingredients come from New Zealand and Australia and it tastes hoppy without being bitter. The pale ale is a classic, light and low on the hoppiness.
And then there's the Off Trail Series.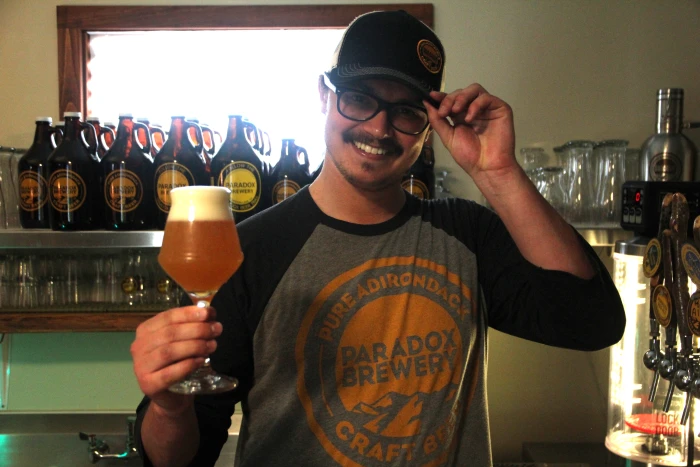 "The Off Trail Series is to keep the brewers' creativity going," Andre said. "Once a month they go off the trail, they try something a little different, a different rendition to a recipe, or they try a different style." 
One Off Trail beer was Peaches and Cream, a milkshake IPA with peach puree and lactose in it. It sounds like a mixed drink, but Andre said it didn't taste like one. That's something that speaks to what the brewers at Paradox are all about. They'll slide something across the bar that you might not think you'll like, and you'll end up with a new favorite.
"We have people walk in here who say they hate IPAs, but ours are a northeast style. Very juicy, hoppy more than bitter," Andre said. "You get someone who will walk in hating IPAs and they'll walk out with a case of our Southern Hemisphere IPA." 
Beer isn't the only thing you can try in the Schroon Lake Region! Take a hike, go horseback riding, or go for a paddle!