When I step into rustic furniture maker Barry Gregson's woodshop studio on the bottom floor of his house, I am immediately met with tree limbs packed tightly along the walls from floor to ceiling. I look up in awe to notice that even the ceiling serves as a storage space for tree parts that will be sanded and sculpted into perfection by the legendary Barry Gregson. I call him legendary because he is a legendary rustic furniture maker, one of the most prominent in the Adirondacks, but he would be too humble to describe himself as such. He would, however, sit with you for hours, telling stories of his modest beginnings as a child in the Adirondacks learning to harvest wood to carve into toys like owl-shaped kites and a boomerang with uncanny precision.
I had the opportunity to talk with Barry in the place he feels most at home, according to his partner Darlene. So I sat with Barry and his son Matt in their studio on Charley Hill in Schroon Lake where both father and son spend hours sanding all kinds of Adirondack trees into rungs and other parts for his famous rustic chairs and rockers.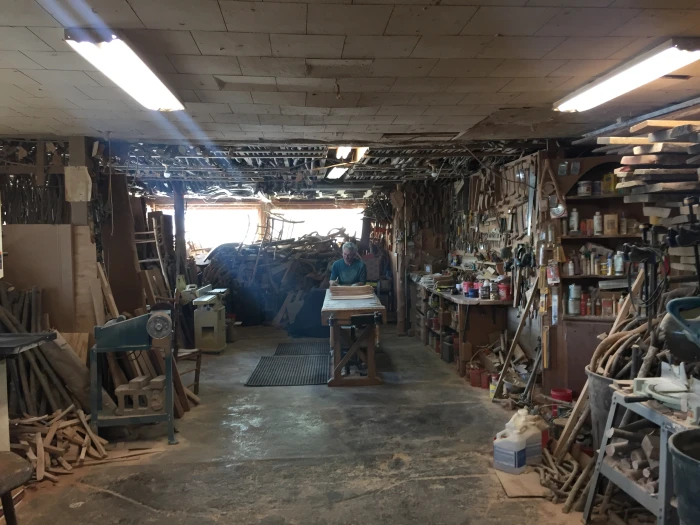 In the studio
As I sit and discuss with Barry his trajectory into world-renowned fame as a rustic furniture maker, his son Matt sits on a stool sanding the branch of an apple tree into a chair rung. Barry and his son are most known for making wooden chairs and other furniture, but their talents also extend to stone masonry.
In fact, that's how Barry got his start back in 1981. He was working on a stone fireplace when a friend asked him to build a set of chairs. Because Barry loves working with natural materials, he took the challenge. He describes his first chair as "rickety, terrible, not much to look at or much to sit in back then." Since 1981, he has created well over 4,000 chairs and has provided furniture for such prominent places as the Lake Placid Lodge, Sticks and Stones Wood Fired Bistro and Bar, and even Disney World in Japan.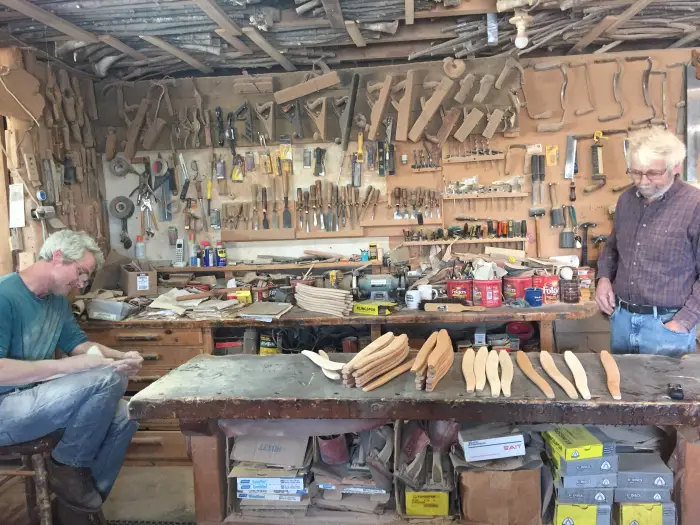 Barry hand crafts his furniture by following the grain of the wood, which is all salvaged by him and his sons in the surrounding Adirondack forest. His materials include branches, tree roots, saplings, and even dead bushes. He explains that the trees are best, their hardest, when they are dead.
The history of each tool that goes into making his iconic chairs and rockers is as deep and storied as the Adirondack forest. On average, a chair can take anywhere from 50 to 70 hours, depending how ornate a piece is. This means one chair usually takes three days to make, with 10-hour days of labor that is. His main tool is his shaving horse that dates back 500 years, when in Europe it was used to make long bows. He explains, "I sit here for eight hours a day sometimes. [Using] a Cooper straw knife that I sanded blunt so I don't cut my finger. It's sharp enough to cut through the bark."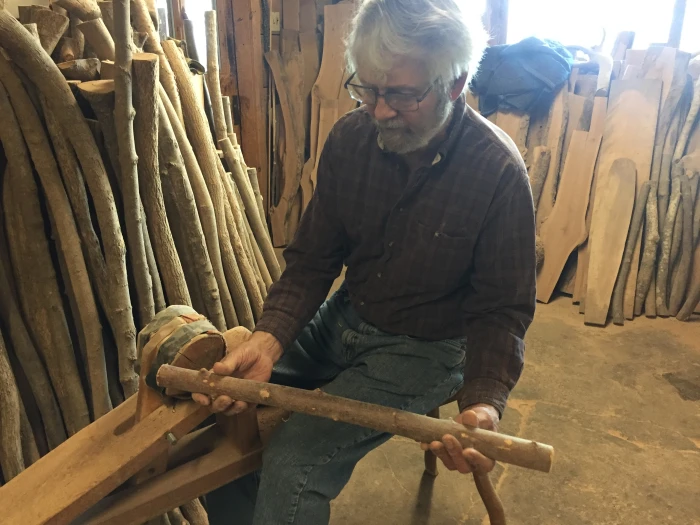 Barry's other favorite and trusty tool is a 100-year old Erik Anton Berg chisel from Sweden. Every chair he makes sees this chisel. The tool is dense and perfectly constructed to be gripped. Barry glows when he pulls the chisel down from his tool wall to show me the logo and signature shark embossed on the tool's smooth steel surface. His chisel and shaver may be old, but they are indispensable to his craftsmanship.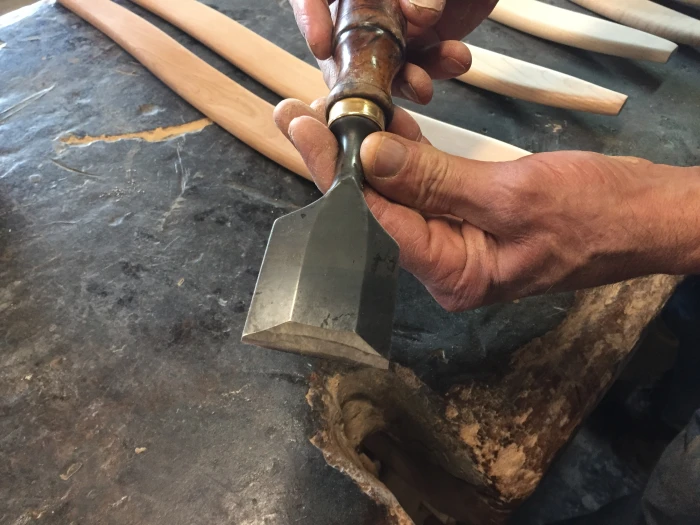 Barry's process of making chairs doesn't begin in his studio, though. It begins with the Adirondackers who once used the land to plant the trees and bushes he now forages. All of Barry's materials come from the Adirondack woods. He looks for the abandoned apple orchards and homesteads no longer in use. He and his family will spend 3-4 weeks out of the year, usually around Thanksgiving, collecting wood in these places, among others. In total, they walk a few hundred miles collecting "bent uprights" and other parts. He also offers to pay tree farms for their unwanted saplings.
Barry has an intimate and expansive knowledge of the different wood he works with. He loves apple wood because "it's one of the prettiest." He tells me, "I harvest apple wood a year ahead of time and we put it out in the forest and let the rain hit it in the fall, then we let the snow sit on it and melt on it when the bark starts to decay it gives [the wood] an incredible color."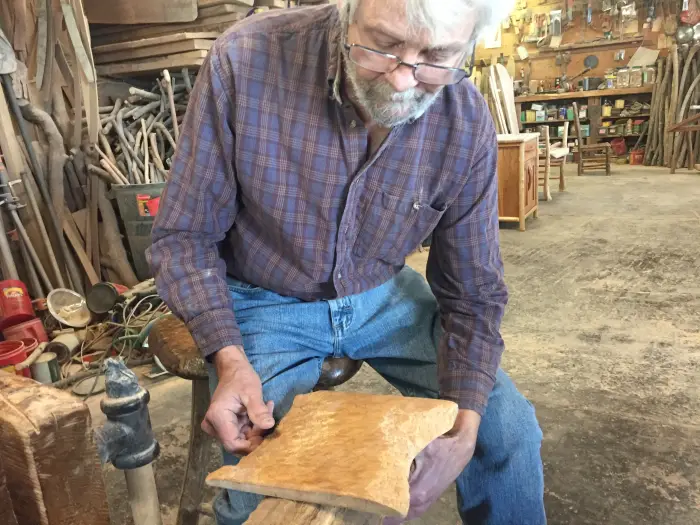 Barry peels a layer of bark on an apple branch, letting me touch the smooth, rust colored layer of cambium now exposed. He will use the apple wood for a chair's rungs or sacrum.
He collects most of his wood two years in advance because it needs to be bone dry before he can use it. Some of the wood in his studio has been there for up to ten years. Barry is indiscriminate when it comes to his love of all the varieties of wood found in the forest. He loves cherry "because it gets so nice and dark when the light hits it." He also loves curly maple and bird's eye. The most unique, though, he explains is "dead, twisted lilac because it's as hard as rosewood, with a lot of character to it."  The dead bushes that have been lying in the dirt for 20-30 years get rock hard so they're interesting to him and very time intensive to work with. A chandelier made of dead lilac hangs magnificently in his dining room.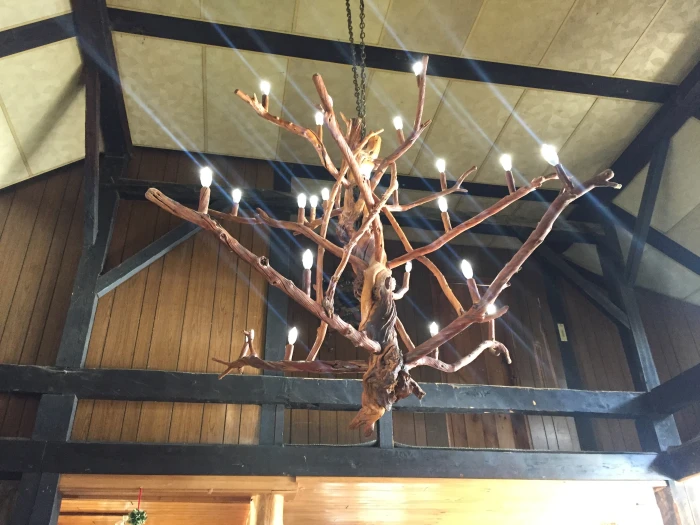 From the beginning
Behind every artist is a dreamer at heart, and in the Adirondacks there is no shortage of inspiration to kickstart dreams. Barry grew up in a family that used the world around them to make things. Born in Chestertown, just outside of Schroon Lake, he traveled much of his childhood throughout New York, attending six different schools, because his father designed Boy Scout camps. Around 1958-59, Barry remembers that when he was seven years old, his father used a bandsaw to make him a bow. I can hear a child's enthusiasm in his voice as he tells me this story. From that moment on after his father gave him that gift, Barry used the woods around him to make things. Being just a child, he naturally started with toys.
He made a boomerang out of bent wood and then came boats with sails. He tells me with genuine glee that he lived like a rich kid making all these toys. He made kites out of reeds and thread that were so light it took just a puff of wind to fly them. He is still excited by how light his kites were. He designed them to look like owls so they looked like birds flying.
Barry jokingly looks to his son Matthew and says, "I want to make an airplane out of light birch bark and reeds that can fly, but Matt says I am wasting my time."
Matt replies, "I think you could do better with guitars, electric guitars. It'll make more money."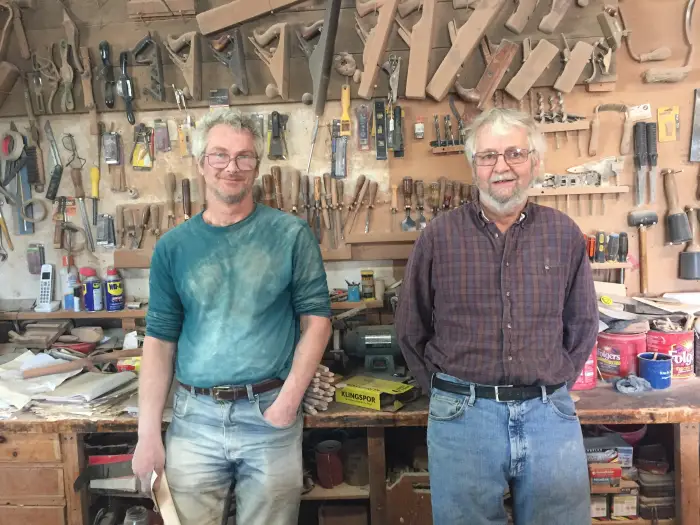 Barry, mesmerized by the vision of a wooden, flying airplane responds, "I do love good sounding guitars, I've done some inlay with abalone I found on the beach on the west coast."
I too can't move past his vision of the airplane. Now I am mesmerized and tell him that I hope to see that one day.
He explains to me his plan to build this airplane by using birch bark, a little cork, and some feathers in its propellers. The airplane would be so light weight it could spin forever with rubber bands. It's obvious that this dream, with such clear vision for execution, has been building for a while.
He first got into airplanes because his relatives lived in Seattle, where his mother is from. His family on that side worked for Boeing and in the 60s he went there for the Seattle World's Fair.  Before then, all he had to fly is what he describes as "these little 10 cent balsam planes and I was quite delighted." However, in Seattle he saw that his cousins were making toy planes with dyhydro air foil. These planes were flying a quarter of a mile. Meanwhile, their dad was designing wind tunnels for Boeing before the company adopted computer automation.
Matt interrupts our reverie, reminding us, "But it won't pay the bills like the guitars will."
Barry laughs and responds, "But I believe it can be done. I think with the childhood I had in the Adirondacks, playing in the woods, I think I'm doing what I am supposed to be doing and I still get a kick out of it, still really love making chairs, when I find a good upright I'm like oh man look at that beauty."
Barry is largely self taught and has immersed himself in formal techniques by reading a ton and learning from other masters. He describes his art as always evolving and himself as always learning. He also has two patents for his chairs. I am most certain Barry is a generous teacher to those who arrived on the scene after him.
Rustic Furniture Fair
Barry Gregson is part of an artistic movement that has grown to include over 300 rustic furniture makers in the Adirondacks alone. Each designer is different, using the unique materials around them as Barry does. Craig Gilborn, friend of Barry's and author of Adirondack Furniture and the Rustic Tradition, founded the first Rustic Furniture Fair that has evolved into one of the best of its kind in the world. You can check out Barry's work and his contemporaries at this annual fair hosted in Blue Mountain Lake.
And of course, Barry's work is rightfully immortalized in the permanent collection at Adirondack Experience, The Museum on Blue Mountain Lake.
Fortunately, his chairs are built to last. He predicts that they should be around for at least 200 years to sit on. You can find Barry's immaculate 20 foot dining table at Camp Old School in Paul Smiths and one of his "best, most fancy" rooties (a chair made from a lot of tree roots) with a set of bar stools in the pub at the Lake Placid Lodge.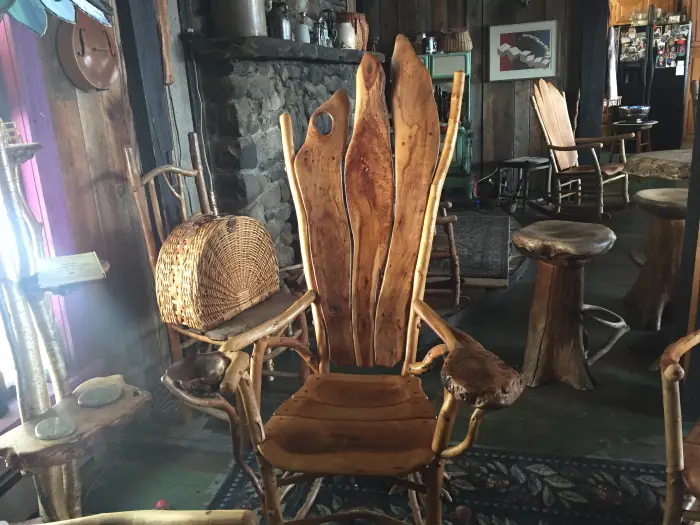 Stop in any store with rustic furniture and Adirondacks crafts or talk to any artisan in the area, they'll smile at the drop of Barry Gregson's name. At Pine Cone Mercantile right on Main Street in Schroon Lake, I overheard, "Oh, yeah, Barry, he's a legend."
You can also check out the stone retaining wall right downtown where the summer square dances are held. This too was created by Barry.
As I leave Barry's studio, I peer out the window to see two stoic mountain peaks that feel within arm's reach. I understand why Barry sees the Adirondacks as a giant untamed workshop, as a place where the natural world around you is not just a thing of beauty to be gawked at, but a space full of raw material to be shaped into elegant chairs and toys that can fly.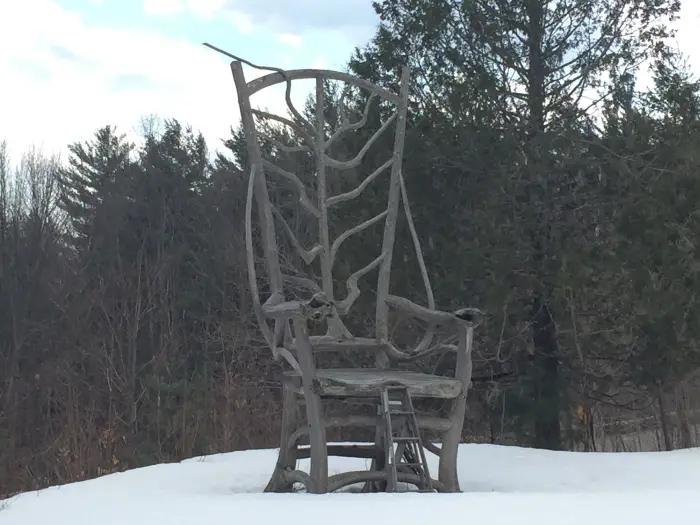 I say thank you to Barry for generously sharing his time and studio with me. I can't resist mentioning how incredibly humbled I am by his talent and his ability to turn the materials around him into such works of art, such things of beauty. He shrugs and says, "Well that's my craft, everyone's got a craft. Look at you, you write. I think that's impressive."
Barry's humbleness is a testament to the best in the Adirondacks. It's why so many travelers keep coming back. There's so much history, so much nature, and so much talent in the country's largest state-protected park. Tucked within these six million acres, there are living legends among us.
You can check out Barry's work year-round in Schroon Lake. Start planning your trip today. There's plenty to do here! Choose your ideal lodging and your ideal adventure.