What makes an Adirondack town perfect? Well, sure the mountains and waterways are exceptional. But, to make a town perfect you need all that and a local craft brewery. And not just any craft brewery, but one that has a beer garden, a selection of original and rotating beers, games to play while you sip brews with friends, nice bar tenders, and a dog friendly environment. Paradox Brewery has fulfilled this list and more. They are also veteran owned and operated.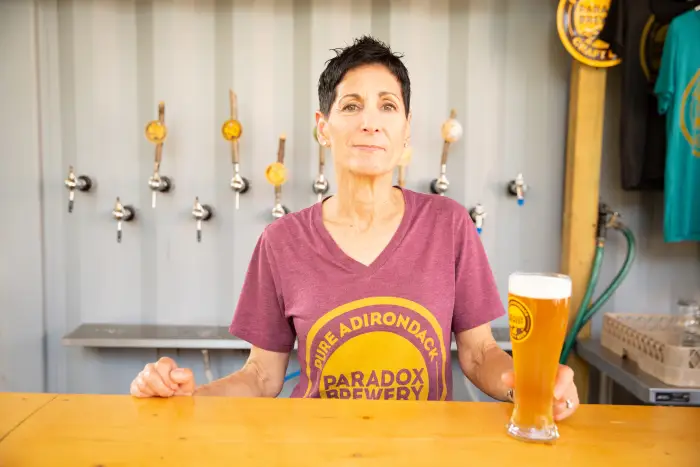 My ROOST co-workers and I spent an afternoon hanging out and sipping beers there after we rode horses at Circle B Ranch. Unarguably, this is an ideal way to enjoy fall weather. First, you do some great leaf peeping perched on a horse, and then you sit back, play some corn hole, and try the different unique and classic beers at Paradox.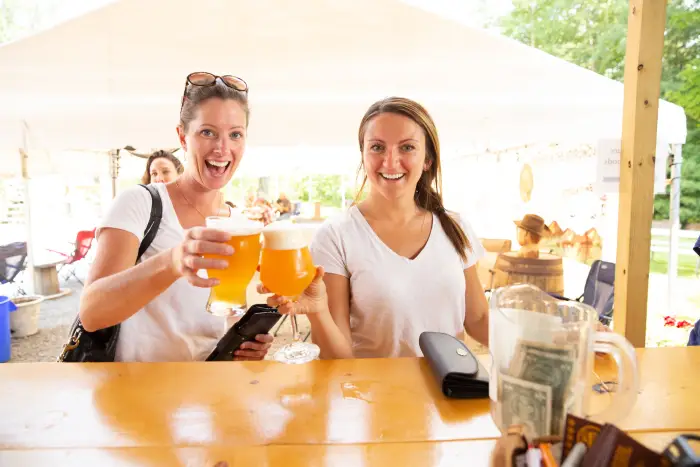 You can currently find Paradox on Route 9 in Schroon Lake. But, because of its success, Paradox will be relocating their production and tasting room to a 25,000 square foot space that overlooks the High Peaks, just 12 miles from its current location. In its current space, Paradox has a fantastic outdoor beer garden set under a tent that's perfect for summer and fall weather.
During our hangout, we met Paradox bar tenders, Veronica and Andre; one of the owners, Joan; and the head brewer, Devon. Of course, every good brewery has resident dogs so we also hung out with Olive and Sammy.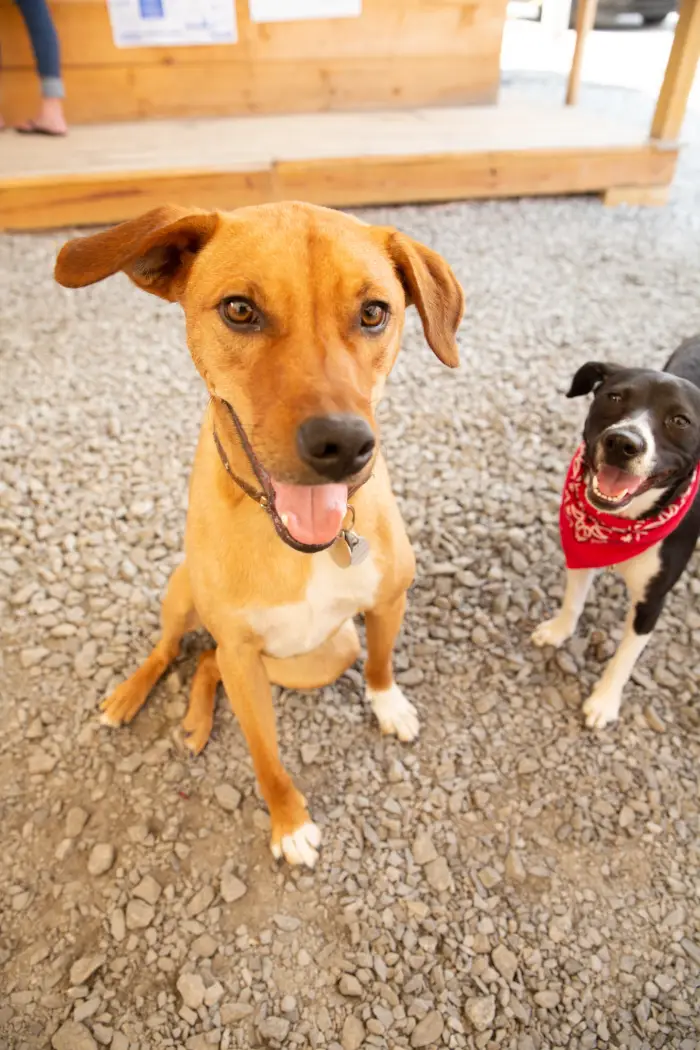 Andre, one of the bar tenders, spent summers at a camp in nearby Newcomb and decided he loved the region so much that he had to live there full time. He knows the area well and learned about Paradox through friends. The rest is history, of course. Not only is he a great and helpful bar tender, but he is an expert in all the fun things to do in the area. Pick his brain about the best places to hike in the Pharaoh Lake Wilderness.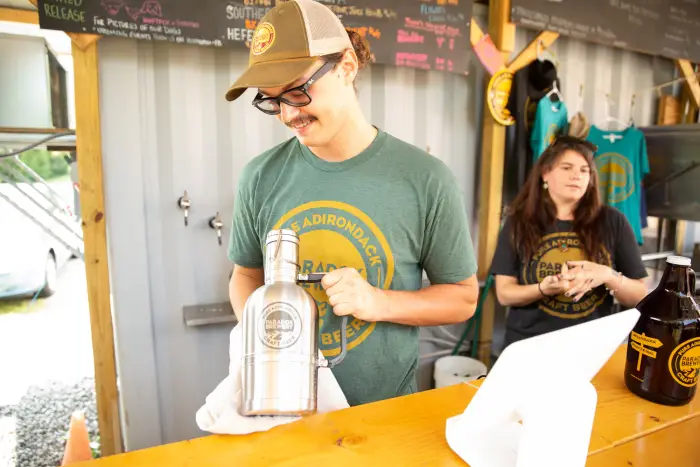 Devon, head brewer, said the best part of working at Paradox is that he gets to brew a lot of different beers. Paradox always has two monthly rotating series, the Off Trail and Weather. Off Trail goes into kegs and Weather goes into cans. This month the Off Trail is a Dunkelweizen, a malted wheat beer with a smooth finish. Overall, the selection of beers on tap definitely reflects the best of both tradition and originality in craft beer brewing. Brooke, ROOST's Content Manager, enjoyed the Big Fruity Gose, a sour beer with a pleasantly tart, salty and fruity combination. Sarah, ROOST's Director of Sales, enjoyed the Hefeweizen, a traditional German wheat beer. I enjoyed the  BeaverBite IPA. Like all good IPAs this one had a bold finish with a hoppy bite to it.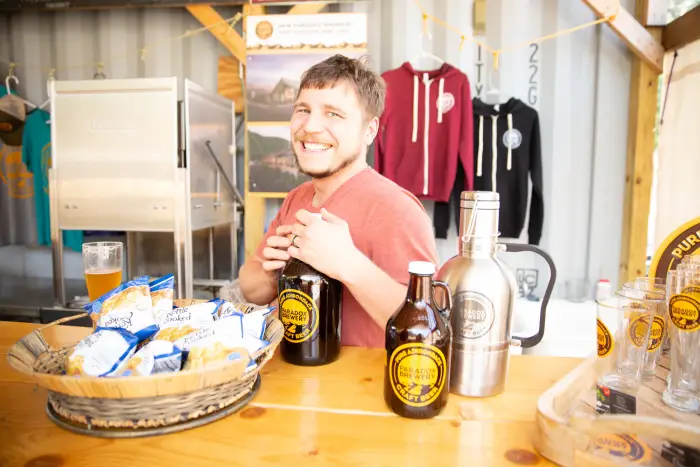 After five years in operation, Paradox has a strong following and is a welcomed outpost to travelers in the Adirondacks. According to the brewers at Paradox, the pure Adirondack water makes their beer so standout. Adirondack water, after all, needs no filtering because it is that pure.
My co-workers and I can't complain because we spent the afternoon playing checkers, enjoying the weather, and drinking good beer. Paradox also serves pretzels if you need a bite to accompany your beer. Really, this place is for beer aficionados and nondrinkers alike. The atmosphere is relaxed, and when Paradox moves to its new location there will be even more opportunities for great views of the High Peaks. So sit back, relax, and drink good beer.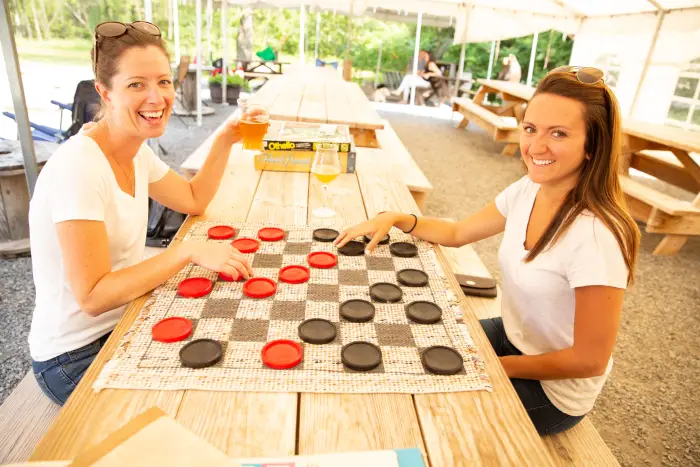 Start planning your trip to the Adirondacks today. We have great food, great beers, and great adventures.
This week in ADK news: