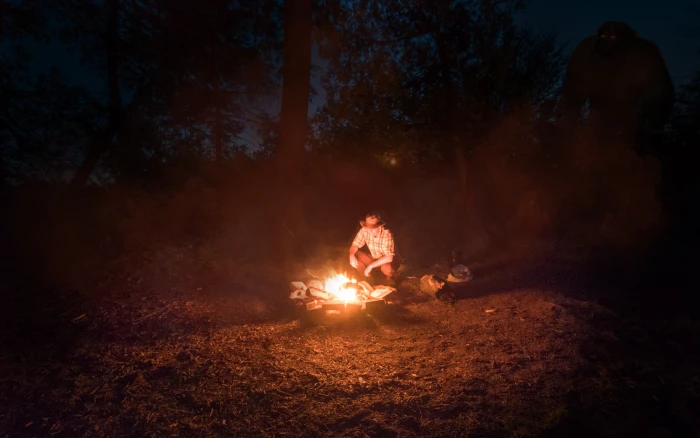 I know what you're thinking. Sasquatch is just a mythical being along the likes of unicorns and fairies. What you can't deny is that as winter creeps in and days become darker, there is a bit of extra mystery that lingers in the woods. Most Sasquatch sightings happen in the late summer and early fall, making it the perfect time to plan a trip to look for the world's greatest mystery.
Whether you're a Squatcher — a group of people banded together by the belief in and fascination of all things 'Squatch — or not, I'm here to prepare you for the adventure of a lifetime.
It was only a few weeks ago when I was out for a hike in the Pharaoh Lake Wilderness with a friend. As the sun went away and my headlamp came out, the end of my hike became increasingly, well, hairy. First it was the sounds of knocking on wood. Then came the un-human like screams. Finally, a large shadow seemed to follow as we made our way off the trail and quickly into the car. While I can't say for sure that it was Sasquatch him/herself, next time I visit the area, I will be ready!
Know where to go
While most Sasquatch sightings in New York have been in Whitehall, recent happenings hint that the group may have relocated to The Pharaoh Lake Wilderness. While it is important to listen to other reports on sitings, the 'Squatch family will probably be in a secluded wooded area. It is also important to look for signs of other animal life. After all, the big guy's gotta eat.
When you get there it is important to familiarize yourself with the area and common noises. Is that screeching sound just an owl in a nearby tree or something more? As you begin to recognize animal sounds, footprints, etc. you will be able to differentiate the normal from the mysterious.
Know what to look for
Now that you're all set up, the next step to finding Bigfoot is knowing what he/she looks like. People may try and claim you saw a bear, maybe a moose even, but this guide will ensure you are not mistaken. The following 'facts' come from bigfootfinder.com.
Average Height: 6 feet, 6 inches – 10 feet tall

Average Weight: 400 – 1,000 pounds

Footprint: 12 – 22 inches long, 5 – 11 inches wide at the ball, 2 – 8 inches wide at the heel

Hands: 6 – 8.5 inches across the palm. Stubby fingers.

Hair: Dark brown/reddish

Skin: black, brown, tan

Eyes: Brown/red

Odor: Not good
Know what to bring
Anytime you head into Adirondack wilderness areas, preparedness is extremely important. While there are a few extra gadgets and gizmos to bring along, the following list is similar to that of a camping trip. This time of year weather can be unpredictable, so a lot of layers and extra food and water are always good to bring. Be sure to have the following:
Camouflage for hiding

Camping gear

Bait (Deer urine and meat to lure Sasquatch to you)

Knife (for self defense only)

First aid kit

Water / food

Notepad to document what you see / hear

Night vision goggles

Gifts for Sasquatch, after all you are inviting yourself into their home
Leave no trace
As mentioned, finding Sasquatch can also be called a super awesome Adirondack camping trip, so make sure you pack out what you pack in. It is also important to bring a bear canister, as you don't want any unwanted guests entering your lean-to or tent. If your search is successful, we recommend viewing from a distance, especially if you come across a brood of 'Squatches.
Happy hunting footer nation!
Disclaimer: This guide does not guarantee a sighting. The region of Schroon Lake is not responsible for serious injury or death in the event that you do find a Sasquatch.