If you love scenic biking loops through cute little towns, past mighty rivers, and into deep forest, Teddy's Trail is an 80 mile bike loop you must try.
Fall's crisp temperatures and colorful foliage add enjoyment to this loop.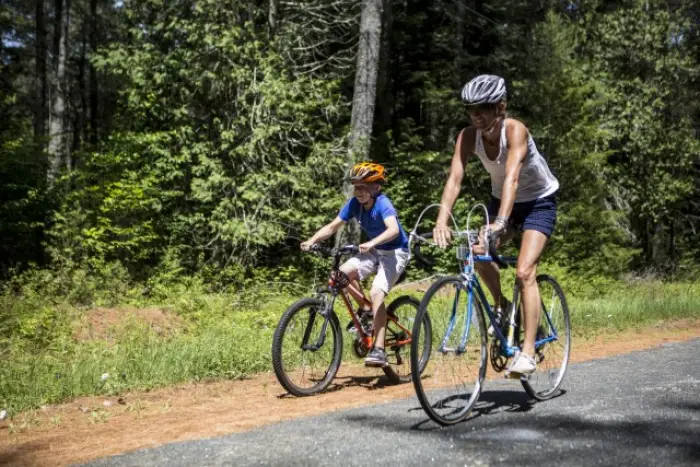 This is a fine ride in any biking season. It offers low traffic, wide shoulders, plenty of places to take a break, roadside amenities, and stunning nature scenes with plenty of water.
The name commemorates the September, 1901 journey taken by Vice President Theodore Roosevelt. He was hiking on Mount Marcy when he was notified that the health of President McKinley, who had been shot two weeks earlier but was expected to survive, had suddenly taken a turn for the worse. Roosevelt made his way back in the middle of the night and used horse transportation to catch the train at North Creek, where he learned that McKinley had died.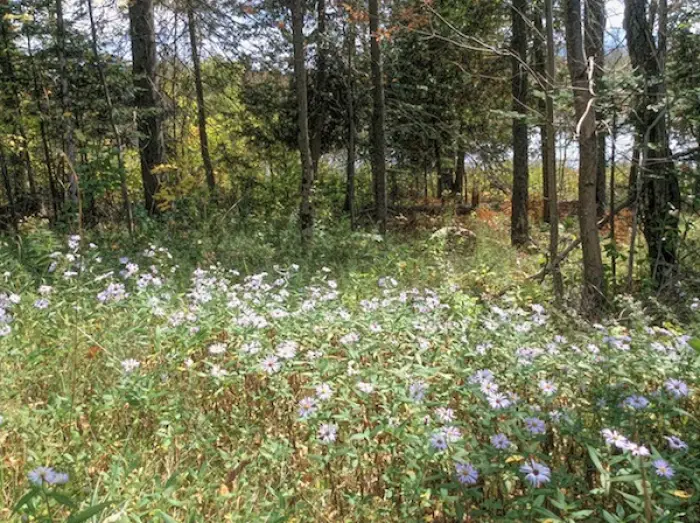 Be on the lookout for wild asters this time of year. These were shot in Newcomb; the Hudson River can be seen beyond it.
Get the spirit
Just like Teddy Roosevelt, you should start in Newcomb. At the time of the worldshaking news, Roosevelt was visiting friends there. This president was well-known for his love of the great outdoors, and he would go on to establish the National Forest Service in 1905. He is considered an important Founding Father of the conservation and environmental movement.
In an amazing coincidence, I stopped by the lovely Hoot Owl Lodge and chatted with two ladies on a family getaway. They were happy to share what a wonderful time they were having at this B&B (seen below in the kitchen.) They are the great-great grandchildren of a man Teddy Roosevelt was visiting with at the time of his famous ride.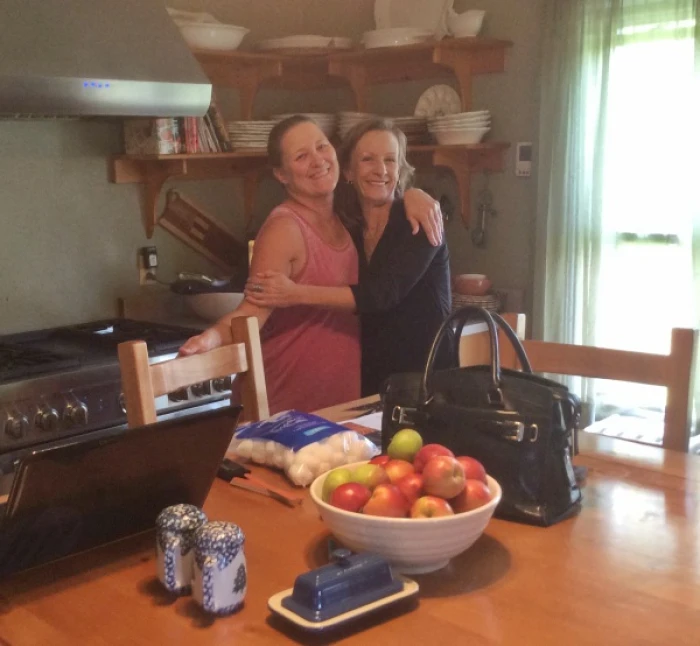 These ladies love Newcomb!
Another great reason to start in Newcomb is the road heading south. It gives you a fairly flat start that climbs as it nears Minerva, then drops in a steep downhill section through the Vanderwhacker Mountain Wild Forest. Almost 19 miles later you arrive at Mammy & Pop's General Store, which has a deli for sandwiches or hot food, treats, and cold beverages for a picnic down the road.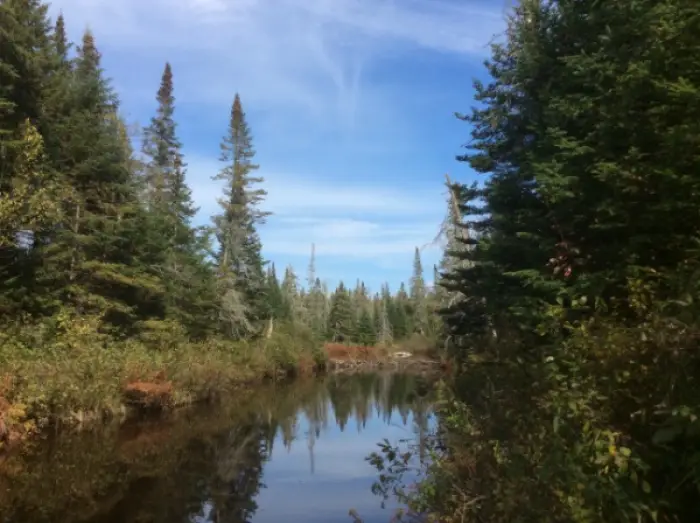 You will cross the Boreas River. This stretch has some wonderful, short hikes just off the road, as well as roadside scenery. Another 8 miles brings us to the town of North Creek.
Mighty Hudson River
The bridge over the Hudson River as we enter North Creek offers some spectacular views and photographic opportunities.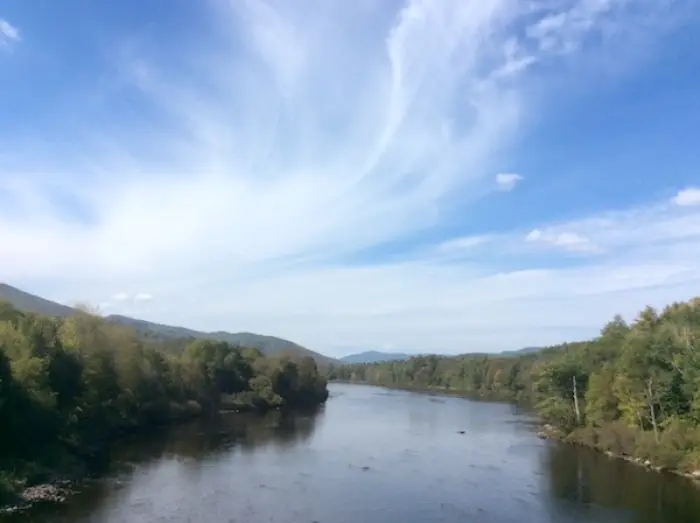 Reaching this section gives you a gradual climb of 504 feet. North Creek has a walkable downtown full of interesting shops and dining spots, making it a great place to explore and have lunch.
If it is a fall weekend, Gore Mountain Ski Resort will be running their scenic gondola ride. This is only a 3.1 mile side trip past some towering granite cliffs.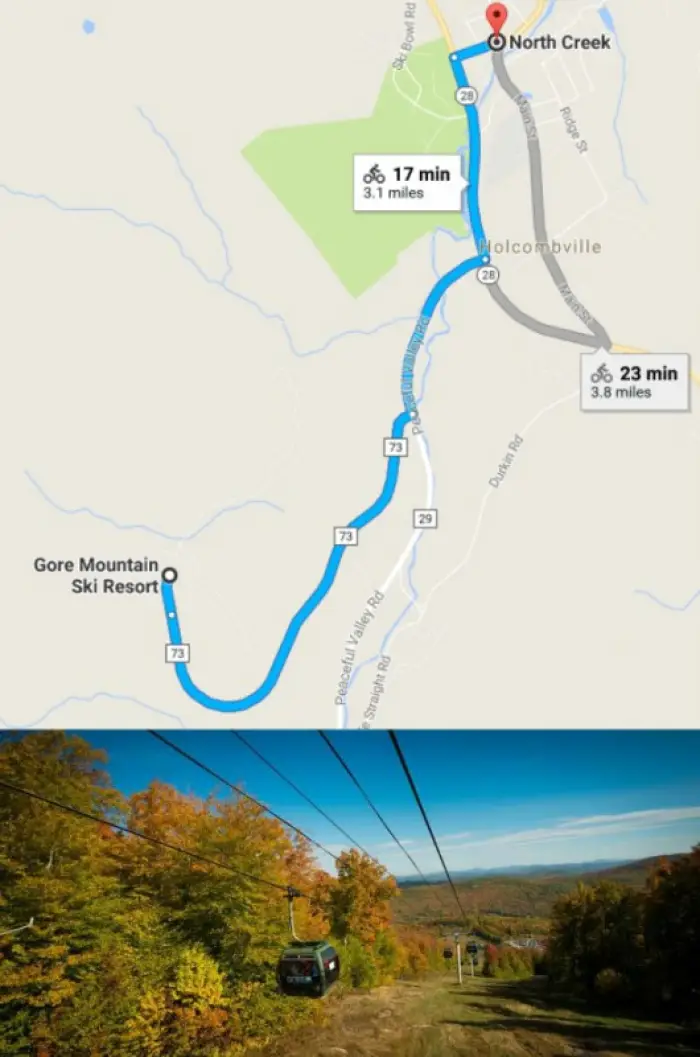 It makes for a lovely change of pace. There's dining at the different resort venues, too.
Upon leaving the area, you will be heading north, toward Indian Lake.
Moose country
Indian Lake is the home of a wonderful fall event, The Great Adirondack Moose Festival. Yes, it includes a moose calling contest. They might even answer!
This 17.4 mile North Creek to Indian Lake segment starts out flat, but soon becomes a steep climb of 1,253 feet.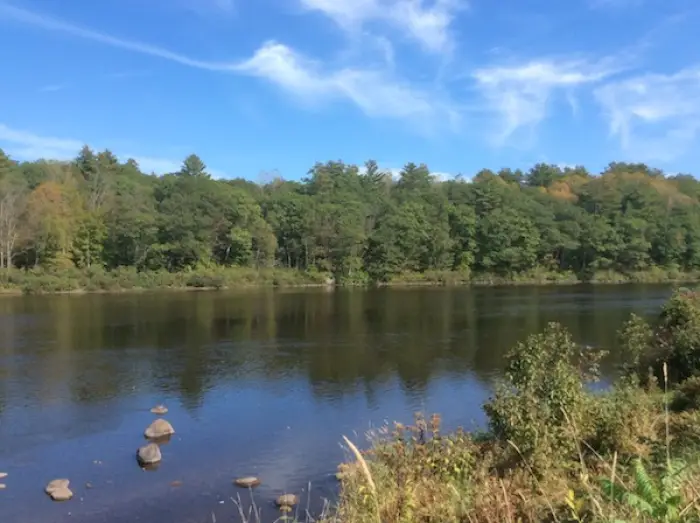 This part of the route runs along the Hudson River, with constantly changing views of the mountains, boulders, and forest. These are the same views which enchanted painters and philosophers, who flocked here in the early years of Adirondack development.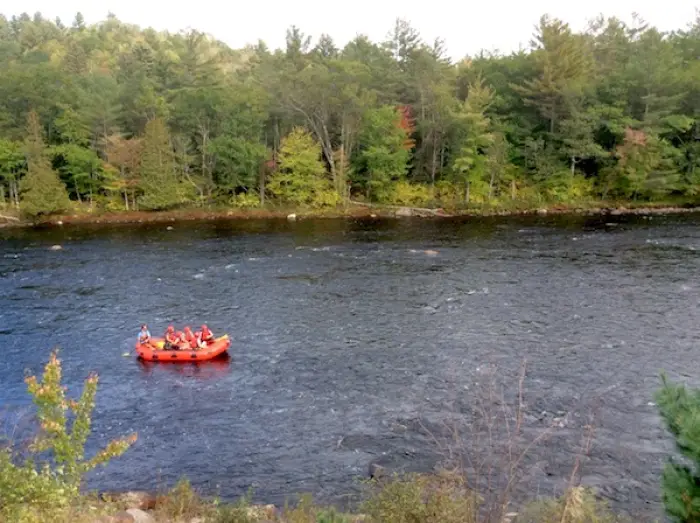 Hudson River rafting is a three-season activity. Here, we see some rafters enjoying lots of turning fall foliage.
The 21.8 miles between Indian Lake and Long Lake Is the longest stretch between towns, with the most variation in terrain. You will gain 1,060 feet and lose 951 feet, but it is a series of climbs, a steep drop, a long flat stretch, and then another set of climbs and drops. The last 3 miles is mostly flat, following the shoreline of Long Lake.
Long Lake has services roadside, too, with dining and shopping right around the three-way stop. The Long Lake to Newcomb section has a series of climbs and dips, with an elevation of 489 feet, but the last section is a long and delightful coast into town.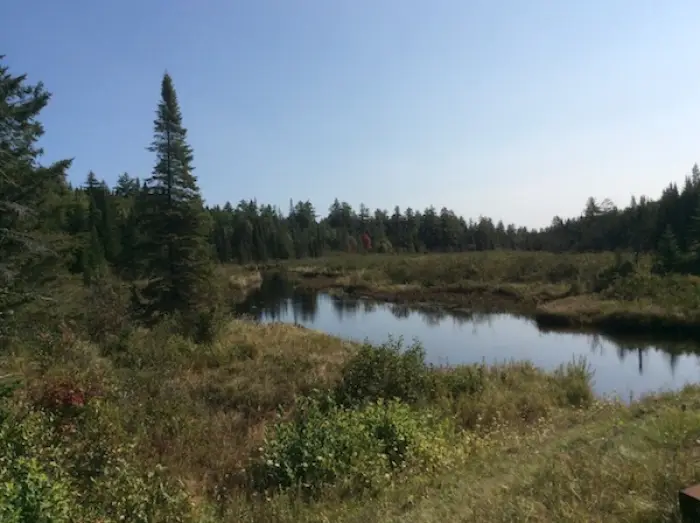 On the way back to Newcomb you will cross Big Brook, which has wonderful wetlands and shorelines for photography.
It makes for a long and lovely day, or a leisurely tour with more stops. The speed doesn't matter when you ride this wonderful loop. It's gorgeous at any speed.
Wherever you may roam, you need a place to stay. Explore more of the dining. Remember, all of our bike routes make wonderful scenic drives, too.