Schroon Lake is a lot of things. On the surface, it's a water-studded region that's ringed by mountains and blanketed in forest. Last week, my wife Anna and I looked a little deeper and discovered it's also the kind of place that attracts interesting people. By visiting four different places, we heard four different stories from people who love this region.
1. Engaged on Mount Severance
A trip to Schroon Lake would not have been complete without a hike, so we decided to do that before heading into town. It seems every Adirondack town has a version of Mount Severance — a short, easy hike to a stellar view.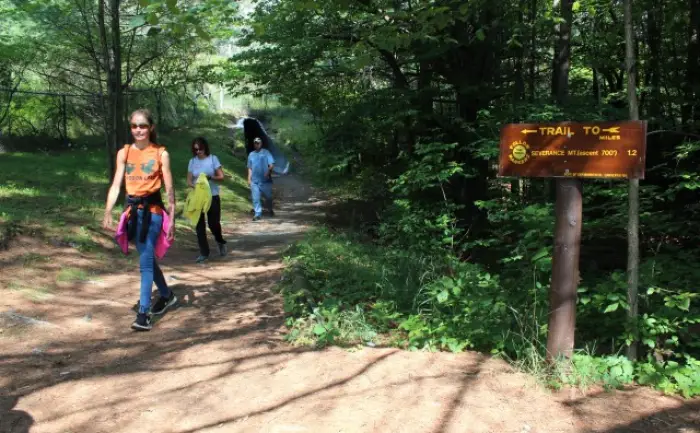 This hike begins with something a little different; a series of two metal tunnels start at the large parking area and go underneath I-87 to the trailhead. The path is well-marked and well-maintained as it winds to the base of the mountain, crosses a wooden bridge, then climbs moderately to the summit at the 1.2 mile mark.
Surprisingly, we had the stunning view of Schroon Lake all to ourselves. To the left and set back from the strikingly blue lake is Pharaoh Lake Wilderness Area, an incredible place we spent the night in earlier this summer.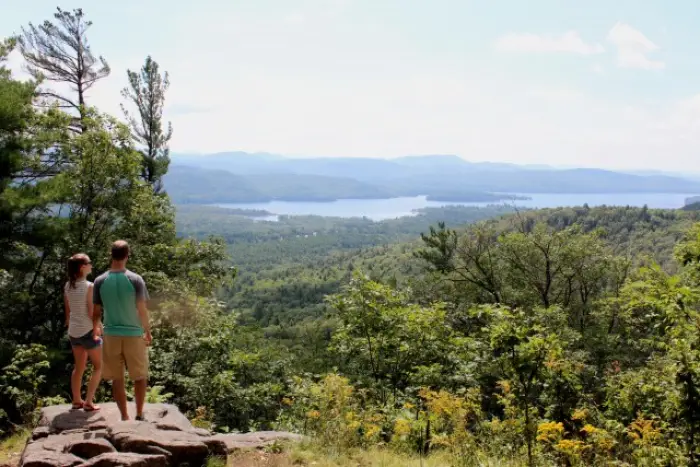 Our solitude on this popular peak was not to last. A young couple, Jon and Heather, appeared from the forest with their dog and I struck up a conversation with them.
This was a special day for them — almost four years ago, Jon proposed to Heather on this mountain and they were visiting from their home in Ohio to celebrate the anniversary. The rest of their story sounded like so many others I've heard. People come to the Adirondacks to vacation and fall in love, sometimes with each other but always with the landscape, then they feel compelled to either move here or visit regularly. Anna and I moved here; Jon and Heather visit as often as possible.
Get there
From I-87, take Exit 28, head toward Schroon Lake and make a quick right to go south on Route 9. The parking area is in about a half mile on the right.
Hike stats
Distance: 1.2 miles to the summit
Elevation: 1,693 feet
Ascent: 700 feet
2. Food and sunshine
The hike, although short, made us hungry for lunch, so we cruised through downtown Schroon Lake and settled on Sticks & Stones Bistro & Bar. We never get tired of sunshine, so we sat at a table on one of the two outdoor seating areas. Anna ordered a Fig and Goat Cheese Salad and I got a Pretzel Burger with Swiss cheese, and we shared both.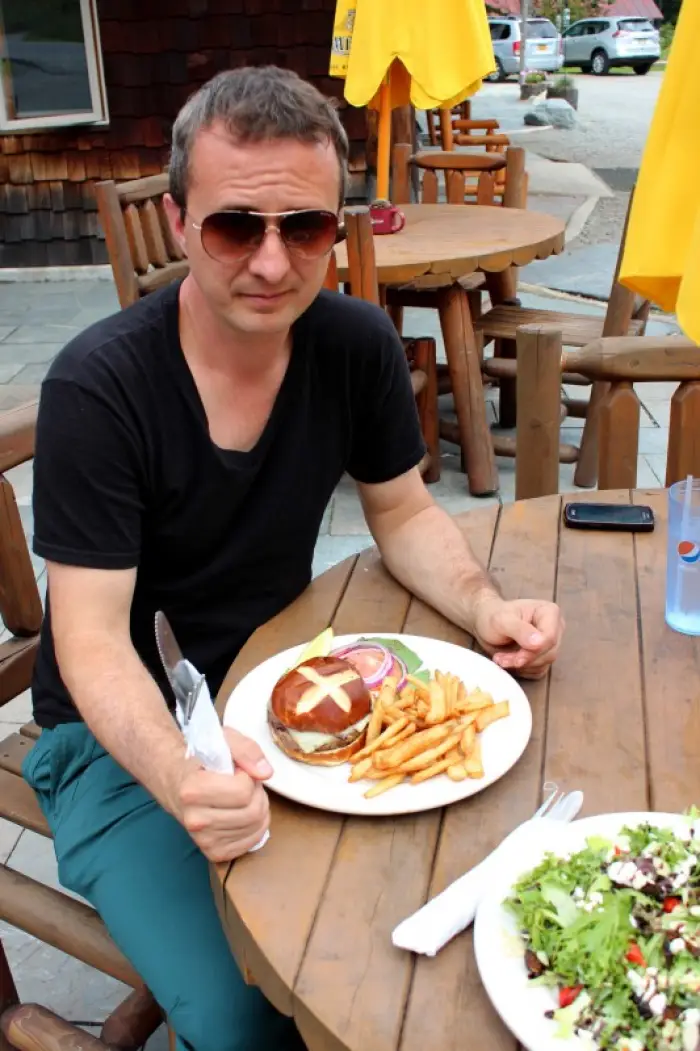 The food was delicious and perfectly prepared, making this an easy spot to recommend. The nice thing about the menu is its attention to eating preferences — if you're vegetarian or vegan you won't have a problem making a choice, as dish is labeled appropriately. The atmosphere is cool, too. It's done in a warm Adirondack flair, an effect that's amplified by the four-foot high, hand-carved, wooden black bears at each booth and the wood-fired pizza oven that's behind the bar.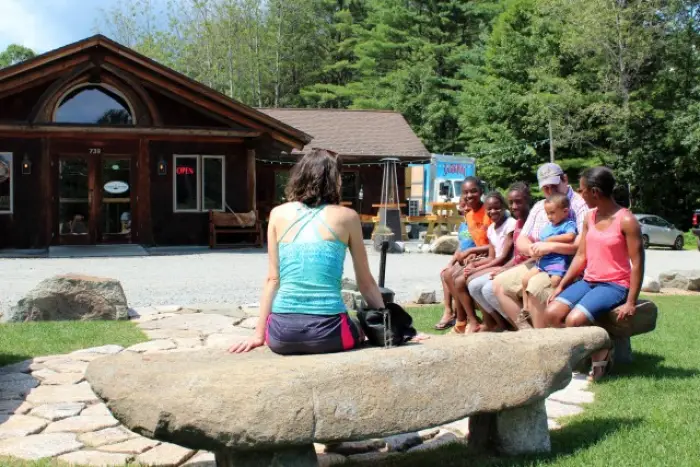 As we left, we ran into a group of people on their way in. We got talking to them and learned they're part of a Long Island based group that brings kids from that area to the Adirondacks every year to paddle and enjoy nature. Some of them were back for their second or third time, but many were first-time visitors. All agreed that the visit was awesome.
3. One good pour deserves another
Our next stop was Paradox Brewery. Since this was our first time there, Anna and I struck up a conversation with co-owner Joan Mrocka to learn a bit about the place. Not surprisingly, she continued the day's narrative: A former visitor to the region, she moved here from New York City and started the brewery in 2013 with her husband, Paul.
But enough talk, let's get to the beer. We ordered a tasting of the six beers on tap, each of which she described in detail. There was the highly drinkable Paradox Pilsner, the smooth and fruity Saison and Citrus Saison, and then the more bitter Rye Pale Ale, Beaver Bite IPA, and Beaver Overbite.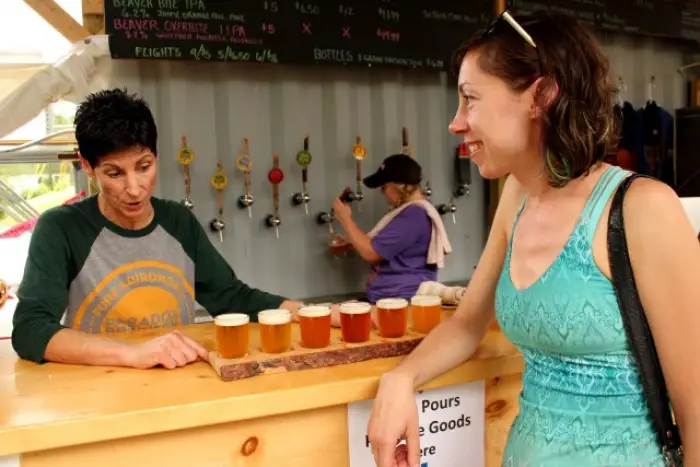 Joan explained Beaver Bite is the brewery's top seller, so if hoppy is your thing you should try it. I don't mind IPAs, but they aren't my favorite. The three IPAs all had a nice bite and a robust hoppiness. The pilsner was good and quite easy to throw back, but the two saisons won the day for me, especially the Citrus Saison, which had a full, fruity flavor that was neither bitter nor too sweet. That's a dangerous combination for me, especially on a hot day.
As a beer lover, I can say all of the beers were good, even the ones that weren't my favorite!
4. Breaking bread
Our last Schroon Lake stop was the North Woods Bread Co., located at the back of the Pine Cone Mercantile downtown. Since it was late afternoon, there were only three half loaves of bread left. We chose two of those: the dried onion and the multi-grain with cherries and pecan. The owner, Edward Marks, bagged up the loaves and explained that he bakes for the day to minimize leftovers, so it's best to get there early.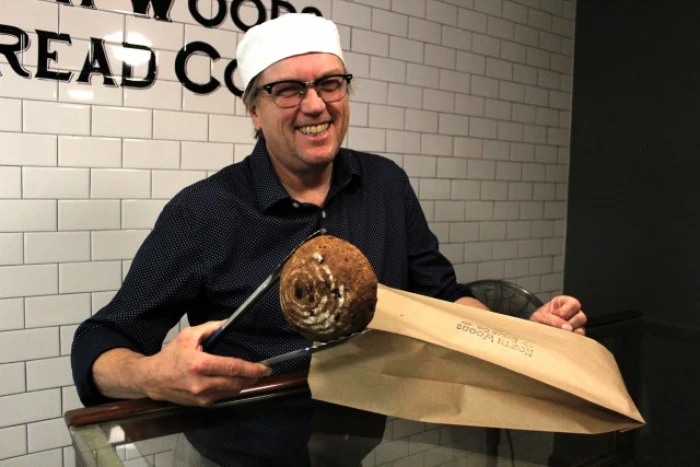 Edward's story is interesting. About 12 years ago his wife, Lisa, had to keep a yeast culture alive as part of a culinary program she was in. Mark was intrigued, and even though he was an admittedly bad cook he decided to try his hand at baking. Something clicked, and eventually the couple moved from Manhattan to Schroon Lake, where Lisa wife opened Pine Cone Mercantile and Edward opened the bakery.
The yeast is still there, too, and it ends up in most breads he makes. Mark told us to hold on, then emerged from the kitchen with a four-quart container of it cradled in his arms.The living organism has to be fed daily or it starts to die. Since it isn't always easy to get someone to properly care for a yeast blob, Edward has brought it on vacation twice.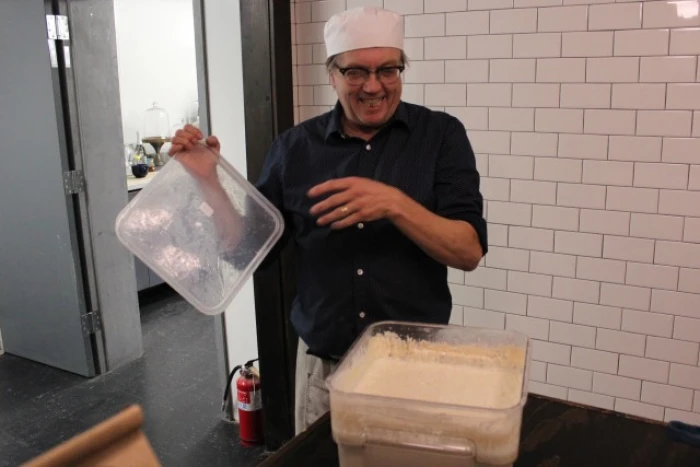 That conjured up hilarious images of a couple sitting on a beach with a bucket of yeast on a blanket between them. Edward assured me that's not quite how it goes down — only part of me believes that.
Bread in hand, Anna and I were headed to our last destination, the Schroon Lake public beach, but the downpour that started while we were talking to Edward nixed that idea. Instead, we passed by it on our way out of town and agreed that it was a great reason to visit Schroon Lake again.
Visit Schroon Lake, and bring a friend! There's plenty of hiking, dining, and shopping in the region.
---
This week in related ADK exploring: