Walk into any gin mill during sledding season and you are bound to hear:
"Ski don't!"
"Artic Scrap!"
"Yamaha-ha-ha-ha!"
"Polaris – pull off lake and repair in spring..."
We are as serious about the sleds that we ride as we are about the gear that we wear to ride them. You will notice that most people that ride seriously — whether man, woman, or child — wear gear that matches their sleds. Not only does the brand match, but the colors do as well.
There have been times when this has been a blessing, as we can see them coming from a distance — especially on the lake. My husband has a jacket that is recognizable by almost everyone that rides in Schroon Lake. Both our families have been die-hard Artic Cat riders, until a few years ago when I began riding a Yamaha - ha. Notice the smiling faces all sporting their favorite brand...

Layer Up!
Brand aside, it is very important to layer when you are going to be spending time in the cold outdoors. We were going riding the other day, and it was -12 degrees when we got up. I can't stress enough the importance of layering. At the base should be a layer that can keep you warm without adding bulk, perhaps a pair of running tights or under armor pants/top would do the trick. Some wear jeans when riding, I don't necessarily think this is the best move, because once they get wet, you are done; frozen and done riding for the day.
That being said, a good pair of wool socks, snow boots, snow pants and a jacket are essential. Mittens/gloves are certainly a rider's choice. Remember that our bodies prioritize keeping organs warm, so hands and feet are the first to get cold. Most sleds have hand warmers on the handlebars, and some people like to add an additional little heat packet into their gloves or mittens for extra warmth. Another important extra to look for on your jacket, which I just learned about this weekend, is to have some sort of reflective strip or lettering. Check out the next picture - you can see on the jackets in front of me how much more this stands out and is more easily seen when you are following in a group.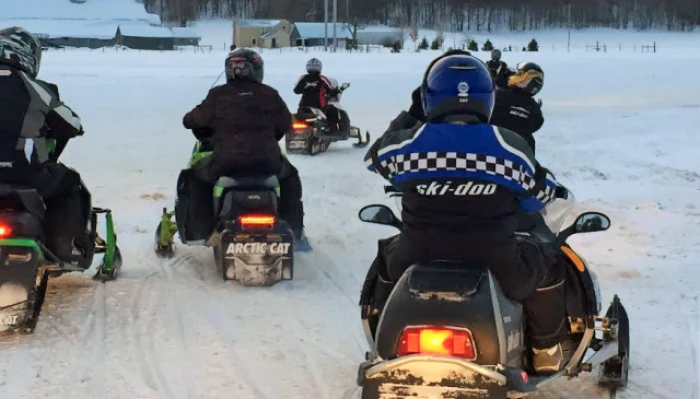 Winter headgear can be laughable (for all the wrong reasons) but again, very important. My husband and I wear balaclavas, which are very thin, cover your entire head and fit under the helmet with ease. It also makes me feel like I am going to rob a bank, which I always find comical! Others wear a face mask or cowl neck. It's all personal preference. When you take your helmet off, it's fun to have a hat to put on like this!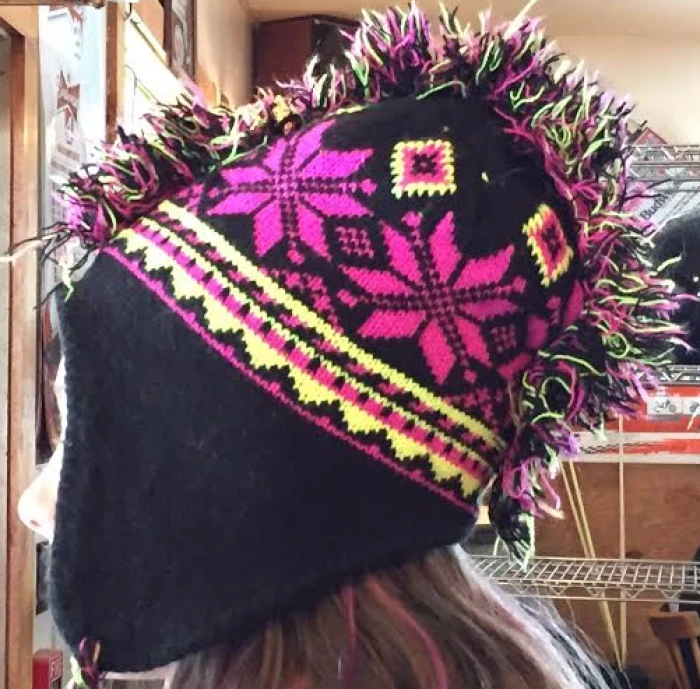 Safety and warmth ensure a fun ride! I was looking on the internet for examples of putting this all together and found the following: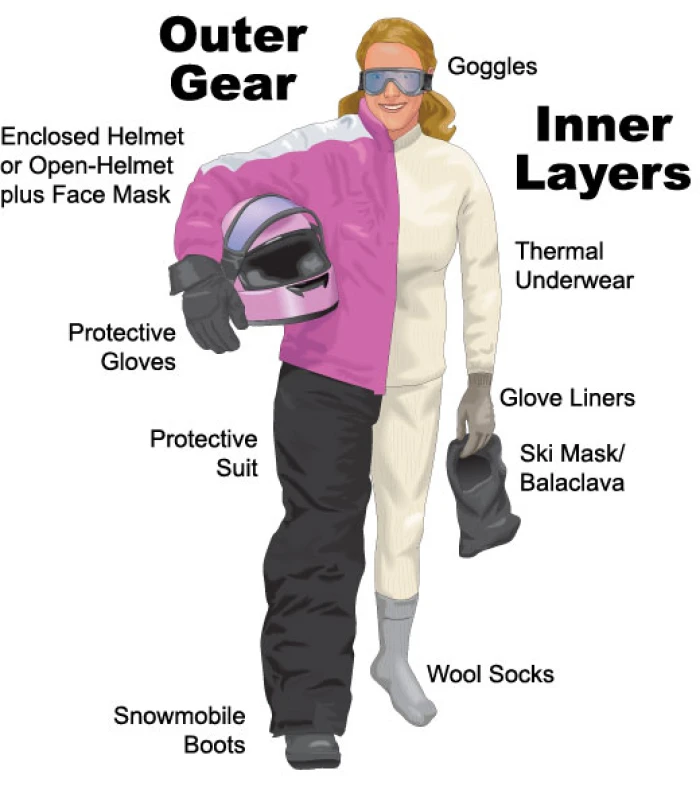 There is special gear if you are planning on doing a large amount of your riding on bodies of water/ ice. There is a brand called Artic Armor that has revolutionized snow gear for snowmobilers, fishermen, and hunters. Not only does this gear provide three layers of thermal insulator, which protects you from sub-zero temps, but it also is windproof, waterproof, and buoyant. If you were to go through the ice for any unfortunate reason, you will float. It won't save you from hypothermia, but it will save you from drowning in most cases.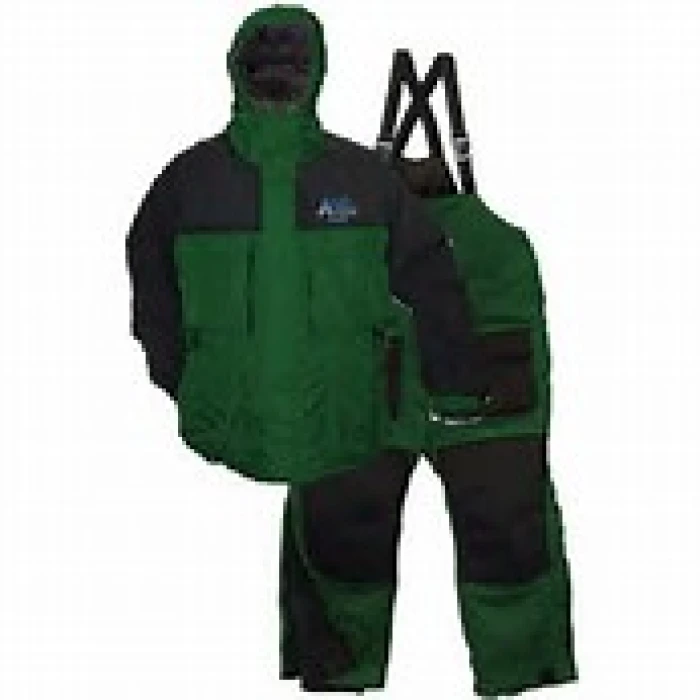 The most important piece of your ensemble is your helmet. NY state regulates that you must have a DOT approved helmet and it must be worn at all times. There are different types, and all personal preference. Some have only the eye sheild that flips up, some have the entire face piece that flips up. Some riders prefer to wear a smaller helmet and glasses or goggles (see below for examples!) Some plug into your sled and will keep your shield free of fogging or icing. Some have communication systems. Don't forget to buckle your helmet. It doesn't have to be extremely tight, but snug enough to keep it from falling off should you have a situation when you leave your sled unexpectedly. If you simply place it on your head, it won't protect when you need it most!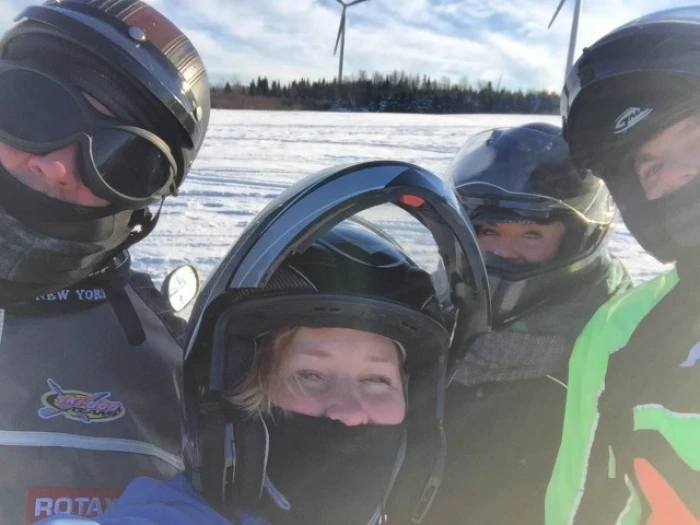 Spending time outdoors is part of our schedule almost every day in Schroon Lake. On weekends, we hope for days that are sunny and crisp and trails that are groomed. Dressing appropriately ensures that we have long days of riding, family and friend time, good meals on the trail, and of course, fun! Remember, it's never too early to start riding with your children...
And it's also never too early for kiddos to start choosing their brand of choice! All of these bundling up suggestions are in-line with lowering heat bills so set your thermostat low, and bundle up! Then sit back knowing that your heating bill won't be so expensive next month! See you on the trails…