The Schroon Lake Region stretches far and wide, allowing for dozens of possibilities for cross-country skiing. Schroon Lake village makes for an excellent basecamp location for a long weekend or an extended vacation with the family, so why not pull back the covers and stay a while. We will fluff your pillow, feed you, pamper you and make you wish you never had to go home; besides, there's nothing like a warm room waiting for you after a day of skiing the trails.
Below you will see a short list of Nordic skiing destinations that will fall into the easy to moderate user level. There are so many more to choose from, but here is a start that will branch you throughout the entire region.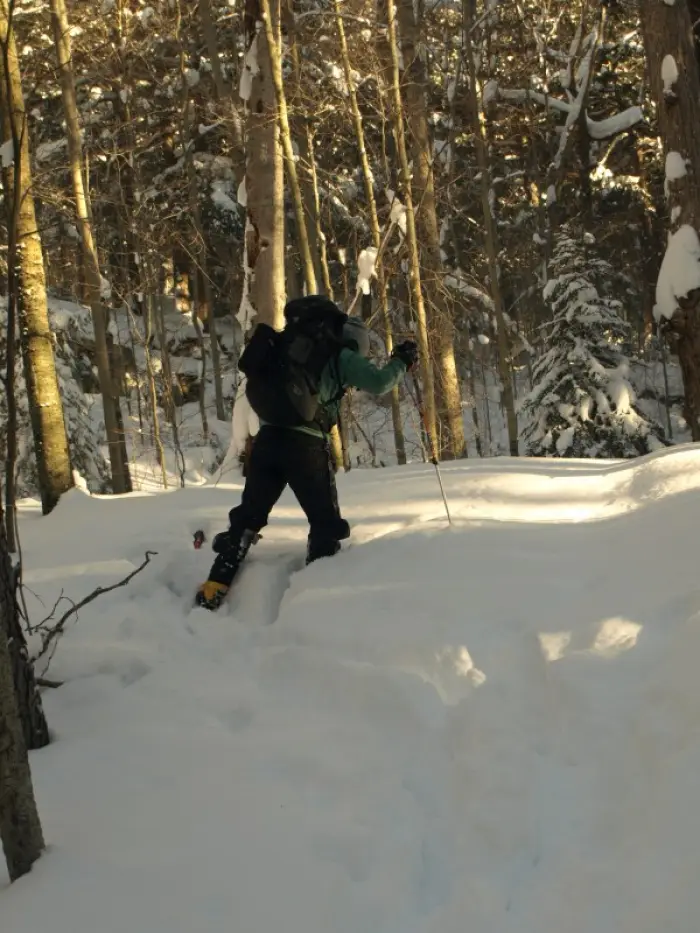 Crane Pond – Pharaoh Mountain Wilderness – 4.0 miles RT
Crane Pond is an access to much of what the Pharaoh Mountain Wilderness has to offer. Utilizing an old woods road this ski is a very easy approach to the back-country. From the end of Crane Pond Road you will find a rather large parking area where your ski will start from. You will be on the extension of Crane Mountain Road which is no longer open to motorized vehicles. The grade is very mellow with little change in elevation. Skiing past Alder Pond to your right you will also gain the benefit of the vistas over this long narrow body of water. Located at the end of Crane Pond Road is a short spur to an old boat launch onto Crane Pond, a foot trail will continue to the right and heads toward Pharaoh Mountain.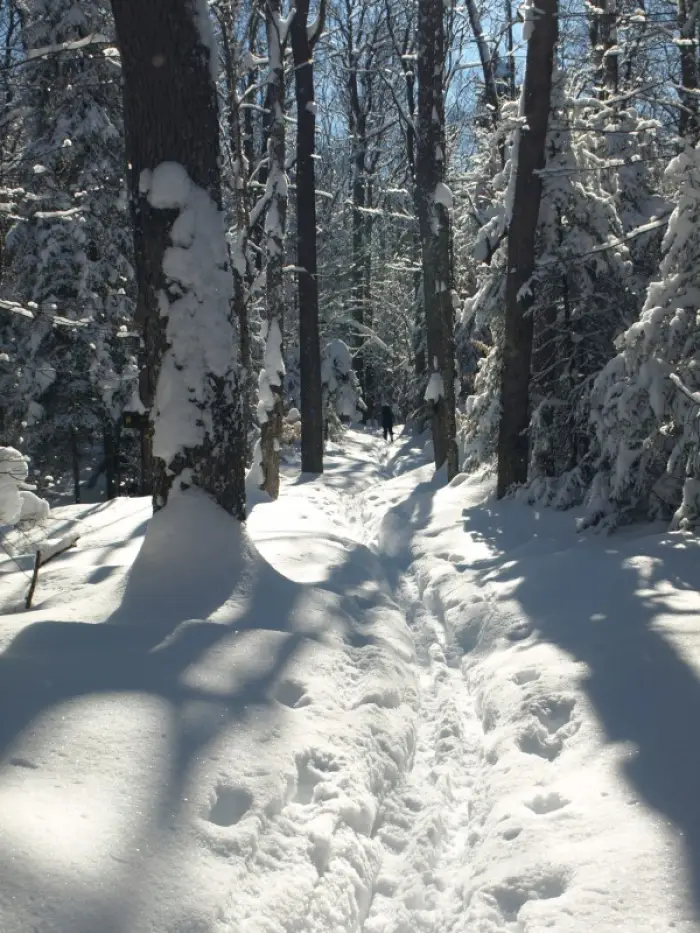 Lost Pond – Pharaoh Mountain Wilderness – 4.0 miles RT
From the opposite side of the wilderness area rests Lost Pond. Lost from what, no one is sure. The trail is a fairly flat one in the beginning but will slowly climb through forest. The grade is never too demanding making it quite forgiving for cross-country skiers. Once at the pond you will notice that the trail loops around it. The loop is not recommended for Nordic skiing but on occasion has been used for such. The slopes tend to be too rocky and steep as they flow down from Abes Hill.
Bass Lake – Hammond Pond Wild Forest – 6.4 miles RT
Bass Lake can be approached from the East or the West; this description is from the east off Ensign Road near North Hudson. This ski will bring you through a pristine area, which gets rather heavy use, mainly from locals. Skiing in this area is excellent and shouldn't be missed. This trail feeds you through a tall forest on a rather mellow grade with only a couple small short steeper pitches. You will ski high above Berrymill Brook and to the north end of Berrymill Pond before turning a hard right and heading west to Bass Lake. If you want to shorten your trip you can stop on the eastern shore of the lake or continue along the shore to the western portion where additional viewing is had.
Hammond and Black Brook Ponds – Hammond Pond Wild Forest – 4.4 RT
This ski is located from the same parking lot as the Bass Lake Trail above, but heads off on a secondary trail that gets much less use, but is still a decent late-season ski. There is a slight bit of climbing in the beginning as you quickly come to a short spur trail to Hammond Pond on your left. Hammond Pond is well worth the 0.3 mile spur. Back at the main trail you will remain on a moderate course that is on the side hill of Berrymill Hill. A small descent to cross Black Brook will come in before your final approach to one of the Black Brook Ponds. This pond no longer holds water and has been overcome by grasses. But, with the cover of snow, you would never know.
Big Pond – Hoffman Notch Wilderness – 3.0 miles RT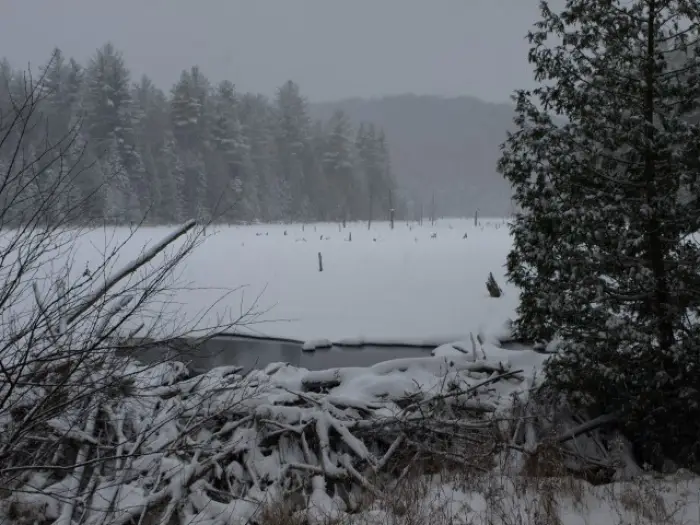 Your skiing adventure here is on a mostly level trail and it will remain so for the majority of the trip. The start brings you through an attractive forest of large growth trees as you pass over what looks to be an old woods road. Soon you will drop slightly down to a bridge crossing near a long narrow pond where you will have a neat view out over the snow covered ice. The trail will climb slightly and head over a couple of small rolling hills before you can see Big Pond through the trees to your left. Big Pond is slightly off the main trail but can easily be reached by using a path that will lead you 100-feet downhill to the shore. The path may need to be walked rather than skied, but you can make that choice. Looking out over the massive "Big" pond there are outstanding vistas welcoming you.
Have Skis Will Travel
Now that we've caught your attention, what trail will you choose? Don't forget your camera, catch those awesome moments and share them with us on our Schroon Lake Region FB page! Want to try out some additional cross country trails, snowshoe treks, or maybe a little downhill skiing or family tubing fun? We are just waiting for you to explore all we have to offer. What are you waiting for!?